Once you have uploaded your source file on Nomalab you can launch a transcoding to a third party so that this one receives a file, certified in conformity with its request.
For this to be done, the audio tracks of your files have to be qualified (see step 2)
Your interlocutor must also have previously created a reception area (Capsule zone) on his side on Nomalab and identified you as a content « uploader ». In this case you will have received an invitation to upload by email. 
IMPORTANT : If you didn't receive an invitation to upload and if you don't have an invitation in your Nomalab interface, please get in touch with the Nomalab support team with by clicking on the messaging button on the bottom left or by sending an email to ops@nomalab.com.
From your Nomalab account, select the source file that you want to use for the delivery.
Click on the « New delivery » button in the "Action" tab (right side of the interface)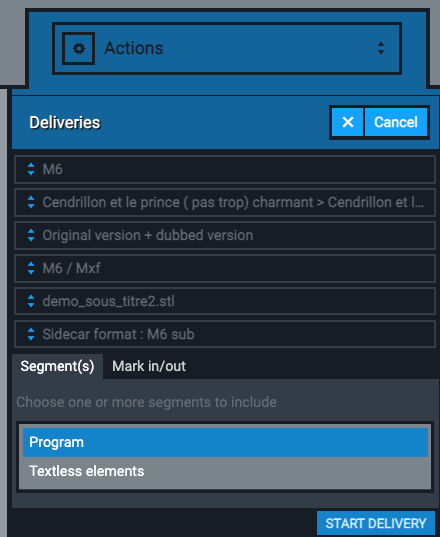 In the menu that opens, select : 
Your destination in the « organisation » field
The « program » corresponding to your source file
The audio tracks that you want on your deliverable file (if your master file contains several language or audio versions, you can choose to deliver everything or deliver only certain audio versions). 
NB: if the destination doesn't take in charge certain types of audio, the platform will warn you about it. It is not necessary for you to worry about the order of the audio tracks : Nomalab assigns automatically the audio tracks according to the technical specifications of the destination. 
The file format you want to use to deliver the destination (if destination accepts different file format, if not, you can't modify this field).
Then you have 2 ways to select the content you want to deliver to your destination:
a) Previously to the delivery, you can describe in section "verification report" the different segments in your file. When this is done, you will find them in the tab "segments" of your delivery menu, and select one or more segment to deliver, depending what you want to deliver.
b) You can choose the TC IN and TC OUT of your file (for example if you don't want to deliver files that contains test patterns/black cardboard/neutral funds etc…).
Nomalab will take care of « cutting » the file in order to deliver your selection only. For this to be made, modify your « Mark in » and « Mark out » in selecting them for your video player and by clicking on the button corresponding to your selection. 
You can finally click on « Start the delivery ». 
NB: if your master zone also contains a subtitle file (.stl), you also have the options to deliver it, using one of the following method:
- Burn it into the video file. If you choose this option, please make sure both video and subtitles are synched when you play them in Nomalab's player. (use "Show" button next to your subtitle file to play the sub with the video)
- Side car format: If your destination accepts a delivery using the same path than the video file, this option will be available into Nomalab menu. Nomalab will then adjust the sub parameters to your destination specification automatically.
If this option is not available for your destination, you can contact Nomalab to double check if this option could be made available (please check firstly with your destination contact how they want to receive the subtitle file).
From that moment, Nomalab takes care of everything, you can even sign out of/leave the platform. 
You can easily follow the progress of the delivery at any time and you will be notified once it is effective.