If you wish to invite a third party to view, upload or download a file, all you have to do is invite them on the master or the corresponding capsule.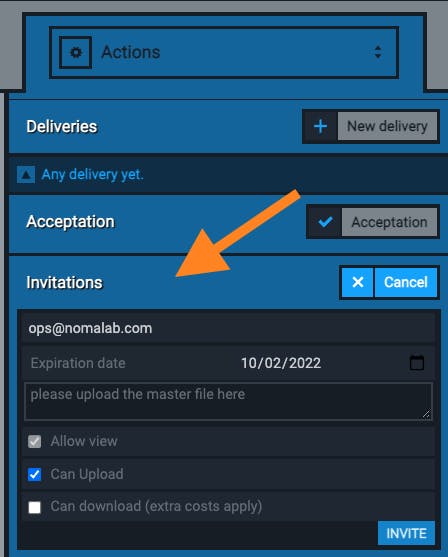 1/ Click on the "Invite" button in the "Actions" tab to the right of the platform.
2/ Once you press this button, an interface opens. You must then indicate the email address of the person you want to invite.
3/ Among the choices available to you, you can:
- Allow to view: only show the contents of the master or the capsule (without any other possible action).
- Allow to upload: The invited person can then upload their file in the master zone (blue zone) in which you invited them.
- Allow to download: The invited person will therefore have access to the download of everything that is in the master or the capsule.
You can also specify an expiration date for this invitation.
4/ Finally, you just have to press the "Invite" button.
An invitation email will then be sent to the person concerned.
This action should be repeated for every new person.
Note that you can delete an invitation at any time by clicking on the small cross to the right of their email.