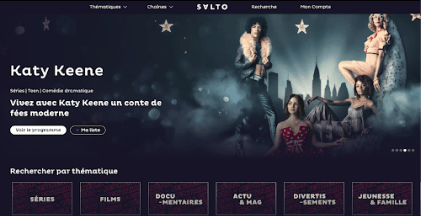 The need
Salto acquires content from a variety of sources. They must be flexible and able to accept incoming material in a variety of formats.
In the short period preceding launch, Salto had to provision massive quantities of content in all forms, while outputting mezzanine files at constant quality to feed its viewer distribution platform, operated by streaming specialist Bedrock.
A difficult equation
Salto knew that they would need an innovative solution to an essential equation:
how to receive, assess and validate thousands of hours of multi-version content,
from a variety of providers, in a variety of formats, framerates and layouts, to produce 100% OK mezzanine file,
with immediate scalability to accommodate bursts and peaks,
at realistic costs.
Fulfilling such contradictory constraints is a huge industrial challenge.
In a conventional technical infrastructure, where files move through various on-premise hardware and licensed software with maybe a dose of cloud resources, such a challenge cannot be met.
Such conventional architectures cannot instantly scale up tenfold to accommodate the bursts of acquisition deals and rights windows.
Furthermore, setting up such an architecture would have required significant project resources and lead time.
Salto needed a truly different solution.
Solving the equation
with the nomalab platform
In this section, we describe the key steps of the workflow provided by Nomalab to Salto for the provisioning of acquired content.
receive & assess
receiving material without bottlenecks
Incoming content is typically provided as master- or broadcast-quality files, in a variety of framerates, content hierarchies and file types.
Depending on quantities and preferences, third parties can upload files either to the Nomalab platform or to S3 buckets specially set up for them. In the latter case, Nomalab dispatches the content of batch uploads to the proper hierarchy using structured metadata.
The Nomalab platform is hosted in the cloud: bandwidth is not an issue and no user is constrained Nomalab-side. No old-fashioned transfer management software is needed.
Automatic analysis
Once content is on the platform, it is automatically analysed and its technical metadata extracted.
Format agnostic
It is essential for Salto to be format- and mapping-agnostic regarding incoming files. Using Nomalab means Salto can accept material as it already exists at the provider's end, which in turn means faster provisioning and reduced to-and-froing.
Ubiquitous high fidelity play
For each title, the Nomalab platform automatically generates a high-quality, frame-accurate proxy. From this point on, all concerned staff interact with the actual content with frame and time-code accuracy, using only a web browser and without having to move or handle any file.
At this stage the Salto teams acquaint themselves with the received content and verify editorial conformity against the deal.
Collaboration & remote working
Because of Covid-19, most Salto teams work remotely. Nomalab's ubiquity and the ability for all stakeholders to collaborate around the actual content are essential.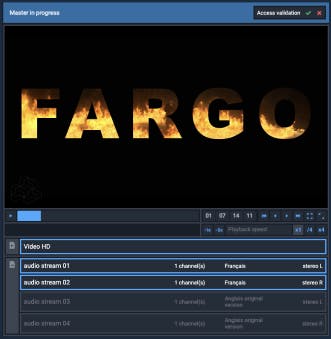 At all stages, users can view and play the actual content of any file.
Fargo © MGM - FXP / available on Salto
Process
All web-based
The next step is the creation from source files of mezzanine files strictly complying with the Bedrock specification.
As this takes place on the Nomalab platform in a web browser, any team configuration can be supported. In Salto's case, this is a managed service provided by Nomalab's 'Ops' team.
Content qualification
This stage includes:
qualifying and selecting which audio tracks from the source are actually used
in & out marking of the usable content
resetting timecode origin and frame rate of subtitle files, if needed
finally, triggering the generation of the mezzanine file, which may include burnt subtitles if need be.
Predictable results
The Nomalab platform is governed by the immutability principle, ensuring predictable results.
Verified conformity
Furthermore, each mezzanine file is verified against the specifications of Bedrock, Salto's streaming provider.
Content gravity
All of this happens entirely within Nomalab's cloud infrastructure, without any heavy file transfer. This is supervised and monitored in a web browser or through the Nomalab API.
Collaboration
In parallel, Salto's promotion and publicity teams also use the Nomalab platform to extract segments or low-res clippings for the editing of promotional material.
Release & publish
validation
This is the final stage, when the Salto team makes the final verification of the content's versions and subtitles.
The frame-accurate player in Nomalab's UI displays subtitles in sync with the actual content of the mezzanine file, so the experience of end users is predictable.
subtitle fixes
Any remaining subtitle issues are handed to the subtitles fixing team. Corrected subtitle files are updated in the content capsule in Nomalab before final validation.
Release & transfer to Bedrock
Once the mezzanine file and subtitles are approved and released by Salto they are automatically transferred to Bedrock, Salto's streaming solution while content status is updated in Salto's Mediagenix traffic system.
No waste no useless file moves
This is the final and sole file movement. It concludes the provisioning sequence. During the whole sequence, no useless file movements take place and the streaming platform only gets OK files, with zero waste.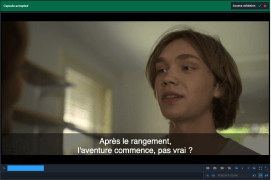 Looking For Alaska © Paramount Television / available on Salto
In summary
source-agnostic
constant quality
painless bursts
0 waste
0 investment
ubiquitous
With Nomalab, Salto can accommodate the variety of file types and formats incoming from a diversity of providers, while producing constant-quality mezzanines for publication whatever the volume.
Nomalab's web UX enables Salto to assay their validation effort depending on their own priorities and acquisition bursts.
Nomalab's web & cloud architecture and service model mean that all the provisioning workflow was kicked off virtually instantly, without requiring any investment or any large project.
Last but not least, as the Nomalab platform is ubiquitous by essence, continuity of work was ensured while teams were remote-working.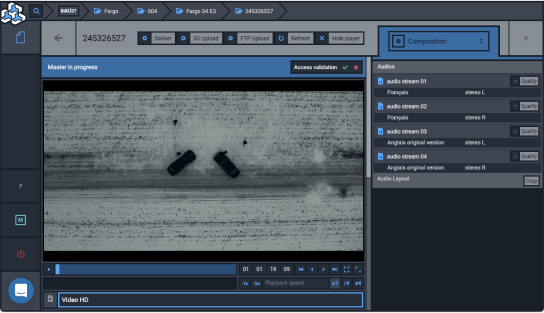 Fargo - © MGM / FXP - available on Salto
What makes nomalab special
Web-based automated & human
Nomalab automates all that can be automated and provides a unique and comprehensive web experience for all human interactions with the content.
Our support team is versed in all aspects of content management and accompanies all users at all ends.
Running our own code on a truly distributed cloud architecture for proven scalability and availability
All storage and computing takes place in the cloud and are provisioned when and as much as needed, without limits.
As Nomalab uses its own code base, scalability is not hindered by the constraints of commercial software, e.g. for transcoding or workflow.
Each job is fully independent from all other jobs.
In 2020, Nomalab had zero downtime, while processing well over 500,000 content-mns and launching over 100,000 computing instances.
Integration interoperability
Provisioning content is critical but is just one part.
Broadcasters and VOD services have legacies, hence a variety systems for media management, automation, playout or publication.
Maximum efficiency and predictability rely on good integration with the rest of the chain. Nomalab's in-house team provides that as well.
Our mission
Nomalab was founded on radically simple premises.
As tapes were finally phased out, the generalization of files in fact increased complexity and induced new costs, hindering the contents' economic life despite booming demand.
For content to be king, it has to move easily.
The maturity of web and cloud technologies means that massively scalable processing platforms can be built.
We designed and developed the Nomalab platform to unlock the true operational and cost benefits of file-based exchanges.
Nomalab fulfils all the requirements of the finished content lifecycle, from mastering and conservation through to delivery, servicing and provisioning.
They trust us
These are just a few examples of broadcasters and vod publishers who rely on Nomalab for versatile, scalable and reliable provisioning.